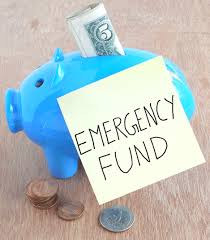 An emergency fund is a financial cushion that helps you navigate situations that require immediate action. These situations usually have time-sensitive repercussions that can affect your well-being or the viability of important possessions such as your home. An emergency fund can be simply called savings. Building your emergency fund will need self-discipline and sheer willpower when saving. The following are ways to divert funds from regular uses to your emergency fund.
Plan for your resources
This is the most important step. Come up with a detailed plan and budget for your resources. Create a shopping list before going shopping to help you stay within the budget. This will free up some money for the emergency fund while cutting down on erratic expenditure.
Get a Second Job
This is not a popular option but it is needed. Get a temporary job that will help you get more funds. It is important to remember to give yourself ample time to refresh and rest. Get part-time jobs such as waitressing and babysitting which won't take up too much of your time.
Reduce, Reuse, Recycle
These three words will help you build your emergency fund quicker and more easily. Force yourself to reduce the amount spent on non-essentials. Only spend your money on essential services and products. It is also important to budget and tracks these expenses. Indulging in avoidable situations and erratic decisions is one sure way to deplete your funds. Depleting your funds means you won't be able to make the scheduled deposits to your emergency fund. The use of energy-efficient appliances will also go a long way in reducing utility bills such as the electricity bill. Use your imagination to find other uses of things before throwing them away. This will help reduce your spending on newer things. Don't be afraid of recycling items as it will reduce your spending.
Sell Things you don't use
Hold regular garage sales to ensure you are not hoarding possessions. It will earn you extra cash and reduce the costs of regularly maintaining the hoarded possessions.
Cut down on personal preferences
For the purpose of building an emergency fund, you will have to reduce your expenditure on big brand names. Treating yourself to a coffee from Starbucks is not reducing your expenditure. Instead, kick that habit and divert those funds to your emergency fund. Start carrying meals to work to replace this costly habit.
Buy used things
The prices of new items in retail stores are pretty expensive. Change this habit and start buying slightly used goods. Visit thrift shops, eBay or the classifieds for better deals. You may not enjoy buying used things, but this is a guaranteed way to free up some cash for your emergency fund.
Get an emergency fund bank
This is what is commonly referred to as a piggy bank. Collect all your spare change and stash it away. Over time, the change will build up and make a significant contribution to your emergency fund.
However, most individuals who attend an essay writing course won't https://www.econotimes.com/How-to-plan-in-writing-1579740 know how to use the content effectively.